David Patten - New England Patriots - Saturday - February 5, 2005


David Patten - New England Patriots
Lower Richland High School wrestler, David Patten, catches a TD pass before half time as New England stuns
St. Louis in the 2002 Super Bowl. Former SC wrestler, David Patten, returns in 2005 seeking his 3rd Super Bowl ring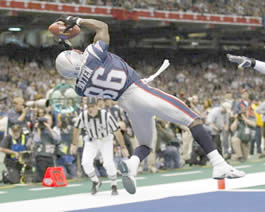 SC wrestler catches Super Bowl Touchdown
Back in 2002, Rob Wiggs, our State Director for USA-Wrestling, wrote in to tell us this interesting story.
"Along with football in high school, David Patten also wrestled in high school at Lower Richland for a couple
of years and was coached by my brother, Steve Wiggs, and I [I don't remember who the actual head coach was - they
rotated like a clock]. David was a heck of a raw athletic talent, with very strong family ties, who worked hard to
become a Region Wrestling Champion. After working with my brother for the most part on his takedowns, David had a
double leg takedown that was rarely stopped. Wish he would have come out for wrestling a year or two sooner."

Another interesting fact about Lower Richland wrestling is that Ike Anderson came out of the program in the mid-1970's
(wrestled with Rob and Steve Wiggs during 3-4 consecutive team titles), and Ike wrestled on the 1988 Olympic Greco Roman
team placing 6th at the Olympics that year. Ike currently is the only SC wrestler to have wrestled in the Olympics.

Congratulations David Patten, New England and Lower Richland High School! And, thanks to Rob Wiggs for writing us with
the story.