SC Wrestling Weekly Stories and Photos - Tuesday - October 11, 2005


Where are they now?

So, where is our state's first Senior National All-American??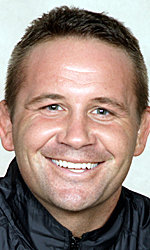 Dan Wirnsberger from Greer


Where is Dan now ....
Dan Wirnsberger was named head coach at Bucknell University for the 2005 season.

Before Coach Wirnsberger reached this elite level, he was a talented wrestler at Greer high school in S.C.

And here's the rest of the story ....

Dan Wirnsberger will lead Bucknell's varsity wrestling program in its return to varsity sport status
beginning in the Fall of 2005. Bucknell will compete in the Eastern Intercollegiate Wrestling Association (EIWA),
which includes every Patriot League and Ivy League institution with a wrestling program. Bucknell will not start
their dual meet schedule until the 2006-7 campaign. Instead the seven wrestlers on the team right now will
participate in several of the invitational tournaments. Bucknell was able to bring back wrestling largely
due to 1962 graduate Bill Graham's endowment of $5.6 million dollars. Wrestling at Bucknell had been
designated a club sport after the 2001-2002 season.

After Wirnsberger was named head coach at Bucknell, Dan Gable was part of the announcement.
Wirnsberger contacted the legendary coach, and he was more than ready to answer the call to
provide any support for the sport he loves so much.

On October 16, 2005, over 500 coaches and wrestlers were gathered on the mats Sunday morning in the
Langone Athletic Center on the campus of Bucknell University for Dan Gable to impart his knowledge
and provide the Bison wrestling program with an injection of wrestling passion.

"Coach Gable is the spokesman for wrestling in the United States and there's no bigger name in the
sport than his," first-year Bucknell coach Dan Wirnsberger said . "It was significant for our
program to get the kind of exposure we need to present to the wrestling community not only on
the local level but all over the country."

If we move on to the experience Wirnsberger built before Bucknell, we retrace his steps back to Bloomsburg.

As head coach of Bloomsburg's Division I wrestling program from 2002-2004, Wirnsberger qualified
10 wrestlers for the NCAA Tournament, including six in 2005, and he coached the program's
first-ever Olympic Trials qualifier. He helped four Huskies win Eastern Wrestling League titles
and six win PSAC crowns. Named the 2005 PSAC Coach of the Year after leading Bloomsburg to the
team title for the first time in 10 years, Wirnsberger's recruiting classes were ranked 14th and 19th,
respectively, in 2003 and 2004.

Prior to becoming head coach at Bloomsburg, Wirnsberger spent six years as an assistant coach at
Virginia Tech, where he helped coach a team that featured three All-Americans and finished in the
top-25 at the NCAA Tournament in 2000 (19th) and 2001 (23rd). The Hokies qualified a school-record
five wrestlers for NCAA's in 2000, and the following year the program was invited to compete at the
National Team Duals at Penn State.

A 1995 graduate of Michigan State University with a degree in criminal justice, Wirnsberger posted a
35-8 record and was the Big Ten Champion and NCAA runner-up at 158 pounds in 1995. That was his third
of three straight All-American plaques, and he earned team Most Valuable Wrestler honors. Overall in
his career, Wirnsberger compiled a record of 120-44, third most wins in school history.
In NCAA competition, he logged 11 wins for the Spartans in three trips to nationals.
During his career at Michigan State, the team went from a struggling program to a 12th-place
national ranking his sophomore year, 25th his junior year and third in the nation his senior season.

A three-year captain of the Spartans, Wirnsberger continued his wrestling career at the
Dave Schultz Wrestling Club while training for the 1997 World Team Trials. He qualified
for the trials after placing sixth at the USA Senior Freestyle Tournament, his first senior
competition. Participating at a higher weight class of 167 pounds, Wirnsberger defeated such
renowned opponents as two-time NCAA champion Marcus Mollica of Arizona State and Iowa's
NCAA champion Darryl Weber.

Wirnsberger began his coaching career with the Mason (Michigan) Youth Wrestling Program.
He later moved back to South Carolina, where he served as head wrestling coach
at Greer High School. In addition to his head coaching duties, Wirnsberger was the
junior varsity football coach and taught classes for autistic students at Greer Middle School.

Dan was a four-time state champion from Greer. His sophomore year high school was in Kansas

and the the other three state titles were at Greer.

One of Dan's greatest contributions to S.C. wreslting was becoming the first S.C. wrestler to become
an All-American at the NHSCA Senior Nationals Tournament (see below for all S.C. All-Americans).

NHSCA Senior National Championships 1990-2005 All-Americans
2001 112 2nd Ryan McClester (Lugoff-Elgin)
2000 275 1st Ben Connell (Lugoff-Elgin)
1999 103 8th Berry Carlton (Greer)
1999 275 4th C.J. Frye (Irmo)
1998 119 8th Travis Drake (Cheraw)
1996 152 8th Dennis Mitchell (Conway)
1996 275 2nd Nick DiBenedetto (Rock Hill)
1994 103 5th Clay Cavanaugh (Lexington)
1994 275 3rd Shelton Benjamin (Orangeburg-Wilkinson)
1993 145 8th Charles Barton (Beaufort)
1993 160 8th Brian Collier (Summerville)
1991 145 1st Lamar Thompson (Rock Hill)
1991 189 5th Damon Poage (Rock Hill)
1990 103 3rd Harris Lawton (Beaufort)
1990 145 2nd Dan Wirnsberger (Greer)


Thanks for making S.C. proud of your accomplishments Dan!


Article compiled by Mark Buford from information all over the place!