SC Wrestling Weekly Stories and Photos - Monday - October 17, 2005


Nine South Carolina Wrestling Stars on the brink of history

As I've mentioned in an earlier article, I believe that this is the Best Senior Class of SC wrestlers ever!

Why do I think that?

First, South Carolina has "never" (that I recall) had 9 senior wrestlers in one year
that could all have 3 or more state titles by the end of the season.

Second, South Carolina has never had a Top 10 finish in the Nation at Senior Nationals (see all Top 10's below),
though the elite Senior class in the state of South Carolina finished 10th in the nation
at the Junior Nationals in Cleveland this past Spring thanks to our 3 All-Americans -
Matt Leach, Bryant Blanton and Brantley Hooks.

Here are 9 outstanding Senior SC wrestlers - One SC wrestler pursuing his fourth state title, Matt Leach, and
Eight other SC wrestlers pursuing triple state titles.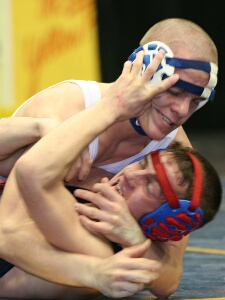 Matt Leach - Eastside (Sr., 2005 125 1st, 2004 103 1st, 2003 103 1st)
Matt Leach was an All-American at Junior Nationals - 125 lbs - finishing 4th in the nation
Matt Leach was an All-American at NHSCA National Open - 125 lbs - finishing 4th in the nation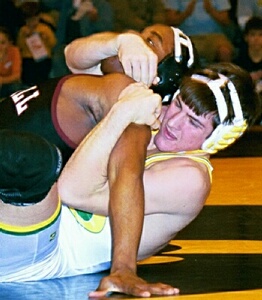 Bryant Blanton - Summerville (Sr., 2005 171 1st, 2004 160 1st, 2003 152 2nd)
Bryant Blanton was an All-American at Junior Nationals - 171 lbs - finishing 2nd in the nation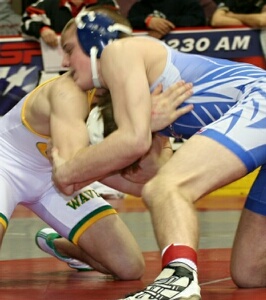 Brantley Hooks - Byrnes (Sr., 2005 145 1st, 2004 130 1st, 2003 119 4th)
Brantley Hooks was an All-American at Junior Nationals - 145 lbs - finishing 4th in the nation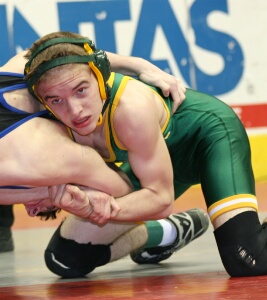 Tyler Thompson - Spring Valley (Sr., 2005 112 1st, 2004 103 1st, 2003 103 2nd)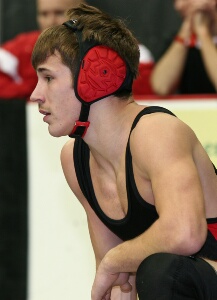 Freeman Cooler - Bamberg-Ehrhardt (Sr., 2005 130 1st, 2004 130 1st, 2003 119 3rd)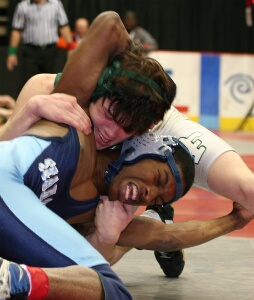 Corneilius Selke - Dutch Fork (Sr., 2005 119 1st, 2004 112 1st, 2003 103 SQ)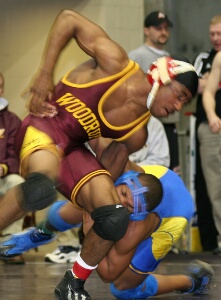 Derek Royster - Woodruff (Sr., 2005 145 1st, 2004 140 1st, 2003 145 SQ)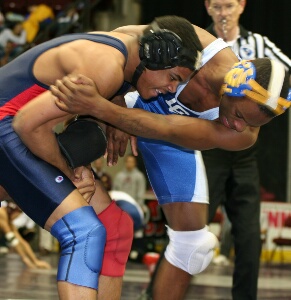 Lance McClester - Lugoff-Elgin (Sr., 2005 135 1st, 2004 125 1st)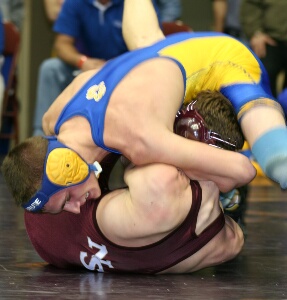 Danny Curtis - Chesterfield (Sr., 2005 119 1st, 2004 112 1st)


In the 16 years of the NHSCA Senior Nationals and starting in 1993 when team scores were kept,
the following states made it into the Top 10 (note - of the Southeastern designated teams - which include
AL, FL, GA, LA, NC, SC, TN - only 3 have succeeded once each to break into the top 10 - NC, FL, TN):



1993
1. Ohio: 185.5
2. Pennsylvania: 166.0
3. California: 157.5
4. Indiana: 116.0
5. Iowa: 112.5
6. New York: 110.0
7. Maryland: 109.0
8. New Jersey: 104.5
9. Oklahoma: 103.5
10. Minnesota: 92.5

1994
1. Ohio: 251.5
2. Pennsylvania: 189.0
3. California: 164.5
4. New York: 151.5
5. Iowa: 94.5
6. Indiana: 89.0
7. Oklahoma: 87.5
8. Kansas: 86.0
9. Wyoming: 81.5
10. New Jersey: 78.5

1995
1. Ohio: 202.5
2. California: 163.0
3. Indiana: 158.5
4. Maryland: 150.5
5. Minnesota: 116.5
6. New Jersey: 115.0
7. New York: 114.0
8. Oklahoma: 104.5
9. Pennsylvania: 104.0
10. Colorado: 102.5

1996
1. California: 283.0 
2. Minnesota: 176.0
3. Ohio: 170.0
4. Pennsylvania: 162.0
5. New Jersey: 119.0
6. Maryland: 96.0
7. Michigan: 96.0
8. New York: 88.0
9. Virginia: 83.0
10. Oklahoma: 80.5

1997
1. Ohio: 213.0
2. Pennsylvania: 208.5
3. New Jersey: 189.5
4. California: 186.5
5. New York: 185.0
6. Minnesota: 161.0
7. North Carolina: 143.5
8. Michigan: 103.5
9. Iowa: 98.5
10. Indiana: 97.5

1998
1. Minnesota: 184.5
2. California: 176.0
3. Utah: 169.0
4. Ohio: 166.0
5. New Jersey: 154.5
6. Oklahoma: 137.0
7. New York: 128.0
8. Illinois: 123.0
9. Pennsylvania: 100.0
10. Missouri: 86.5

1999
1. California: 255.0
2. Ohio: 234.0
3. New Jersey: 152.5
4. Oklahoma: 133.0
5. New York: 132.0
6. Kansas: 105.0
7. Wisconsin: 95.5
8. Montana: 90.0
9. Virginia: 87.0
10. Indiana: 84.0

2000
1. Ohio: 258.5
2. California: 220.5
3. New Jersey: 178.5
4. New York: 145.0
5. Oklahoma: 138.0
6. Michigan: 110.0
7. Illinois: 106.5
8. Minnesota: 103.0
9. Missouri: 98.5
10. South Dakota: 98.0
Note - SC finished 17th with 73.0 points

2001
1. California 265.5 (19 All-Americans)
2. New Jersey 228.5 (14 All-Americans)
3. Ohio 185.5 (13 All-Americans)
4. Pennsylvania 172.0 (10 All-Americans)
5. Kansas 161.0 (7 All-Americans) 
6. New York 118.0 (4 All-Americans) 
7. Michigan 109.5 (3 All-Americans)
8. Washington 96.0 (3 All-Americans) 
9. Tennessee 91.0 (3 All-Americans) 
10. Utah 80.0 (2 All-Americans)
Note - SC finished 25th with 47.0 points

2002
1. Ohio: 253.0 (15 All-Americans)
T2. California: 218.0 (15 All-Americans)
T2. New Jersey: 218.0 (10 All-Americans)
4. Kansas: 143.5 (9 All-Americans)
5. Virginia: 143.0 (4 All-Americans)
6. Wisconsin: 141.0 (6 All-Americans)
7. Iowa: 115.5 (4 All-Americans)
8. New York: 114.5 (3 All-Americans)
9. Michigan: 107.5 (6 All-Americans)
10. Oklahoma: 98.0 (5 All-Americans)
Note - SC finished 35th with 29.0 points

2003 
1. Ohio: 289.0 (22 All-Americans)
2. New Jersey: 202.5 (9 All-Americans)
3. California: 176.0 (8 All-Americans)
4. Minnesota: 175.0 (9 All-Americans)
5. Michigan: 151.5 (6 All-Americans)
6. Virginia: 126.0 (5 All-Americans)
7. Pennsylvania: 125.0 (7 All-Americans)
8. Florida: 118.5 (5 All-Americans)
9. New York: 113.0 (5 All-Americans)
10. Illinois: 112.0 (5 All-Americans)

2004
1. 267.0 OH
2. 175.0 CA
3. 161.0 PA
4. 146.0 IL
5. 143.0 NJ
6. 141.5 MI
7. 136.5 IN
8. 131.5 MN
9. 117.5 NY
10. 117.0 UT
Note - SC finished 33rd with 28.0 points

2005
1. 222 NY 
2. 210.5 OH 
3. 186 CA 
4. 180 NJ 
5. 148 IA 
6. 137 KS 
7. 122 MN 
8. 120.5 IL 
9. 118.5 MI 
10. 116 UT 
Note - SC finished 37th with 16.5 points



Article by Mark Buford