SC Wrestling Weekly Stories and Photos - Tuesday - October 18, 2005


Where are they now? - Ike Anderson

So, where is our state's only Olympic wrestler (since we give Missouri credit for Sam Henson)?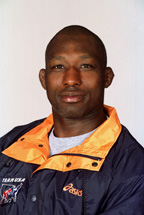 Ike Anderson from Lower Richland


Where is Ike now ....



Ike Anderson has been the USA Wrestling Greco-Roman Developmental Coach since 1998. 
He has been a world-class Greco-Roman athlete, and an active Greco-Roman coach on 
the national and club level.

Anderson placed sixth in the 1988 Olympic Games in Seoul, South Korea, competing 
at 136.5 pounds. He won a silver medal at the 1991 Pan American Games in Cuba, 
was a 1991 World Team Member and won three medals at the Greco-Roman World Cup. 
Anderson won three U.S. National Greco-Roman titles, and was a national runner-up 
four times. He was also a two-time Concord Cup champion.

Anderson served as head coach of the 1995 Pan American Championships team in 
Cali, Colombia. He was an assistant coach on U.S. tour teams to Europe and Cuba. 
Anderson was a member of the 1996 U.S. Olympic team coaching staff. He was a club 
coach with the New York Athletic Club and the Adirondack Three-Style Wrestling 
Association. In addition, he served assistant coaching stints at the 
State Univ. of New York at Albany and at Appalachian State Univ. 

Anderson attended Appalachian State University in Boone, N.C., where he was an 
NCAA Championships qualifier in 1979 as the 126 lbs. Soouthern Conference champion. 
He received degrees in recreation and physical education.  
He attended Lower Richland High School in S.C., where he was a state champion in 1975. 

Lower Richland high school completed a four year reign as 4A Team State Champions during Ike's senior year.
Ike may never have made it into wrestling had he not had occasional run-ins with teachers at school.
As Ike has shared in the past, it was after one particular disciplinary meeting that his teacher
said either he'd have to go out for the wrestling team and shape up, or take the consequences of
punishment that were typically applicable (in-school suspension, etc.).  
Ike chose wrestling ... thank goodness he became a competitor and avoided sure trouble!

Ike's high school team State Championships (when all classifications were combined):
1972 Lower Richland - Coach William Tourek 48 pts. - 2nd place Bishop England - Coach Jack Cantey 41.5 pts.
1973 Lower Richland - Coach Rudolph Cooper 65.5 pts. - 2nd place Union Coach Jim Barnes 35 pts. 
1974 Lower Richland - Coach Rudolph Cooper 55 pts. - 2nd place Summerville Coach Jim Flowers 41.5 pts. 
1975 Lower Richland - Coach Jim Fitzpatrick 73 pts. - 2nd place Airport Coach Jim Barnes 57 pts. 


On a side note, back in 2004, Two Greco-Roman wrestlers from Iraq, along with their coach, 
arrived at the U.S. Olympic Training Center in Colorado Springs for the beginning of their 
four month training opportunity. The U.S. Olympic Committee (USOC) partnered with the
International Olympic Committee (IOC), the U.S. Department of State and USA Wrestling 
to host and train the Iraqi wrestlers.  Muhammed Mohammed (55 kg) and Ali Salman (96 kg) 
spent significant training time with Ike Anderson prior to the 2004 Olympic Games in Athens, Greece.
In the midst of all that goes on in Iraq, it's refreshing to know Ike Anderson is involved in rebuilding there too.

Anderson and his wife Sheila have one son, Tyler.

Thanks for making S.C. proud of your accomplishments Ike!



Article compiled by Mark Buford from information all over the place!