SC Wrestling Weekly Stories and Photos - Wednesday - October 19, 2005


Where are they now? - Shelton Benjamin

So, where is our state's most famous non-Real Pro wrestler (let's give Real Pro Wrestling a plug)?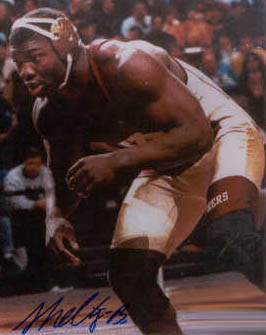 Shelton Benjamin - Orangeburg-Wilkinson, Minnesota Gopher


Where is Shelton now ....

Can you believe it if I tell you he is a Super Star in Pro-Wrestling with the WWE?


Sure you can ... everyone knows Shelton (now)!

Let's retrace Shelton's steps to Orangeburg ... back in the beginning:

Shelton achieved a 122-10 record at Orangeburg-Wilkinson
Shelton claimed state champions as a Heavyweight in 1993 and 1994

One of Shelton's significant contributions to S.C. wrestling was placing 3rd in the Nation, becoming
an All-American at the NHSCA Senior Nationals Tournament (see below for all S.C. All-Americans).

NHSCA Senior National Championships 1990-2005 All-Americans 
2001 112 2nd Ryan McClester (Lugoff-Elgin) 
2000 275 1st Ben Connell (Lugoff-Elgin)
1999 103 8th Berry Carlton (Greer)
1999 275 4th C.J. Frye (Irmo)
1998 119 8th Travis Drake (Cheraw)
1996 152 8th Dennis Mitchell (Conway)
1996 275 2nd Nick DiBenedetto (Rock Hill)
1994 103 5th Clay Cavanaugh (Lexington)
1994 275 3rd Shelton Benjamin (Orangeburg-Wilkinson)
1993 145 8th Charles Barton (Beaufort)
1993 160 8th Brian Collier (Summerville)
1991 145 1st Lamar Thompson (Rock Hill)
1991 189 5th Damon Poage (Rock Hill)
1990 103 3rd Harris Lawton (Beaufort)
1990 145 2nd Dan Wirnsberger (Greer)


Shelton graduated from high school and went on to Lassen College in Suisunville, CA.  His achievements included:
1995: Shelton was a Junior College National place-winner at Lassen
1996: Shelton was a Junior College National champion at Lassen
1996: Shelton was a 100-meter track Junior College National Track champion (best time: 10.3 seconds)

Shelton then transfered to the University of Minnesota and his wrestling achievements included:
1997: Shelton was 25-16 for the University of Minnesota and finished 5th in the NCAA's becoming an All-American. 
1998: Shelton was 36-6 for the University of Minnesota and finished 3rd in the NCAA's becoming an All-American. 

At the time of his graduation, Shelton was one of only two repeat All-Americans from the University of Minnesota. 
The other was former a HWT as well, Billy Pierce.

After his collegiate wrestling career ended, Benjamin served as an assistant wrestling coach at the university.

Then, when he decided to begin a pro wrestling career, Benjamin signed to a WWE developmental contract at age 24
and began wrestling in Ohio Valley Wrestling where he would team with Brock Lesnar as the Minnesota Stretching Crew. 

Shelton would also later appeared as part of Team Angle, led of course, by then-WWE Champion Kurt Angle. 

Today, Shelton continues to be a highly popular WWE Star with International appeal!!

Did you know?
... Shelton was kicked out of school once for carrying a gun to school in the 8th grade
... As Shelton would later say "I owe it all to my high school coach because I was a troubled youth 
I could have been a drug dealer. I didn't want to do that, but that's the kind of people I hung around. 
Basically I was a D student at best. Coach came into my life and pretty much turned it around 
and showed me a better way."
... Family gave him the nickname "Shelty B.", so when he signs autographs, that's what he signs (just see above).



Thanks for making S.C. proud of your accomplishments Shelton!


Article compiled by Mark Buford from information all over the place!