SC Wrestling Weekly Stories and Photos - Thursday - October 20, 2005


Where are they now? - David Patten

So, where is the former SC wrestler turned NFL star?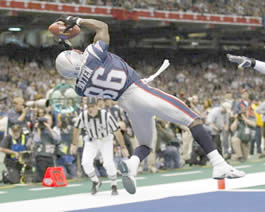 David Patten - New England Patriots, now Washingron Redskins
Lower Richland High School wrestler, David Patten, catches a TD pass before half time as New England stuns
St. Louis in the 2002 Super Bowl. Former SC wrestler, David Patten, gained his 3rd Super Bowl ring last season.


Back in 2002, Rob Wiggs, our State Director for USA-Wrestling, wrote in to tell us this interesting story.
"Along with football in high school, David Patten also wrestled in high school at Lower Richland for a couple
of years and was coached by my brother, Steve Wiggs, and I [I don't remember who the actual head coach was - they
rotated like a clock]. David was a heck of a raw athletic talent, with very strong family ties, who worked hard to
become a Region Wrestling Champion. After working with my brother for the most part on his takedowns, David had a
double leg takedown that was rarely stopped. Wish he would have come out for wrestling a year or two sooner."

Another interesting fact about Lower Richland wrestling is that Ike Anderson came out of the program in the mid-1970's
(wrestled with Rob and Steve Wiggs during 3-4 consecutive team titles), and Ike wrestled on the 1988 Olympic Greco Roman
team placing 6th at the Olympics that year. Ike currently is the only SC wrestler to have wrestled in the Olympics.



So, where is David Patten this season??? ... he has left New England to go to the Washington Redskins!

Patten, an eight-year veteran out of Western Carolina, agreed to a five-year, $13 million deal 
with the Washington Redskins.  It was generally understood at the end of last season with the
New England Patriots that the 30-year-old Patten would not return this season, after he was 
dropped from the starting lineup and caught just two passes in the postseason last year.

Patten finished last season second on New England with 44 receptions for 800 yards -- 
a team-best 18.2 yards per reception -- and tied tight end Daniel Graham with a 
team-leading seven receiving touchdowns.

But he managed only one catch against both Indianapolis and Pittsburgh in the playoffs 
(for 20 yards total) and was shut out in limited action in the Super Bowl.

That didn't keep the Redskins from seeking his services. Washington coach Joe Gibbs 
called Patten's agent, Mark Lepselter, at 12:01 a.m., one minute after the 
NFL free agency period began.

"Dave truly appreciated his time in New England, but as is always the case in this league, 
the time comes when guys have to move on," said Lepselter, whose client claimed a 
$3.5 million signing bonus. "Dave wanted to see what was out there and he's excited 
about the next facet of his career. But he had a great time in New England."

Undrafted out of college in 1995, Patten worked odd jobs before giving the Arena 
Football League a try. He earned a spot on the New York Giants roster in 1997, 
lasting three years before going to Cleveland for a season.

Patten signed with New England in 2001, and became an immediate contributor, posting 
career highs in every receiving category. He then had his best season in 2002, with 61 
catches for 824 yards while leading the team with five TD receptions.

Patten leaves a mark in the record books, with one of the more memorable performances 
in franchise history.

In a contest at Indianapolis in 2001, Patten became the first player in team history, 
and sixth in the NFL since 1960, to throw a touchdown pass, catch a touchdown pass, 
and run for a touchdown in a game. Walter Payton, 22 years prior, was the last to have accomplished that feat.

One of Patten's scores was a 91-yard reception that remains the longest play from scrimmage in Patriots history.

For a former wrestler out of Lower Richland South Carolina ... he's worth writing this article about!



Thanks for making S.C. proud of your accomplishments David!


Article compiled by Mark Buford from information all over the place!