SC Wrestling Weekly Stories and Photos - Saturday - October 22, 2005


Where are they now? - Ben Connell

So, where is the former SC wrestler that won a National High School title and Dave Schultz award?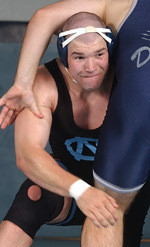 Ben Connell - Lugoff-Elgin, UNC-Chapel Hill




In high school, Ben Connell was a four-time South Carolina state champion at Lugoff-Elgin. 
He won a high school national title and was a Dave Shulz national award winner. 

As a former University of North Carolina-Chapel Hill heavyweight, Ben Connell is now in 
his first season (2005-06) as a student coach with the Carolina wrestling program. 
Ben was a two-time member of the ACC Academic Honor Roll during his wrestling career. 

Connell also attended Oklahoma during 2000-01 and redshirted as a member of the wrestling team. 
He then completed a two-year mission in Boston with the Church of Jesus Christ of Latter-Day Saints 
before transfering to UNC.  He sat out the 2003-04 season with UNC due to a knee injury.

Connell currently is completing his degree in management and society at UNC-CH and has a wife, Kristin. 


During high school, Ben Connell compiled the most impressive resume to date of any S.C. wrestler.

Ben Connell is one of 6 S.C. wrestlers to achieve the status of a 4X state champion (see below):

4x State Champs from S.C.:
Ben Connell Lugoff-Elgin 1997-2000
Robby Bell Hillcrest 1995-1998
Dan Wirnsberger Greer 1987-1990
Barnell Mack Swansea 1978-1981
James McKinney Buford 1978-1981
Carl Van Sewell Airport 1975-1978


Ben Connell is one of 2 S.C. wrestlers to achieve the status of NHSCA Senior National Champion (see below):

Lamar Thompson Rock Hill, National Champion 1991 145 lbs.
Ben Connell, Lugoff-Elgin, National Champion 2000 Hwt.


Ben Connell is the only S.C. wrestler to achieve the status of being a 
Dave Schultz High School Excellence Award winner as awarded by the 
National Wrestling Hall of Fame (see below):

National Dave Schultz High School Award winners
2005 - Troy Nickerson, Chenago Forks High School in New York (Northeast)
2004 - Coleman Scott, Waynesburg Central High School in Pennsylvania (Northeast)
2003 - C.P. Schlatter, St. Paris Graham High School in Ohio (Northern Plains)
2002 - Teyon Ware, Edmond North High School in Oklahoma (Southern Plains)
2001 - Steve Mocco, Blair Academy in New Jersey (Northeast)
2000 - Ben Connell, Lugoff-Elgin High School in South Carolina (Southeast)
1999 - Zach Roberson, Blue Valley Northwest High School in Kansas (Southern Plains)
1998 - Justin Ruiz, Taylorsville High School in Utah (West) 
1997 - Jeff Knupp, Walsh Jesuit High School in Ohio (Northeast)
1996 - David Kjeldgaard, Lewis Central High School in Iowa (Northern Plains) 


The 2000 Asics Tiger High-School All-Americans included Ben Connell right behind 
current collegiate 2x national Champ Steven Mocco of Oklahoma State (see below).

First Team - 2000 Asics Tiger High-School All-Americans
103.  Mike Magnusson   (Blaine HS - Blaine, WA ) 
112.  Kyle Ott   (Wayne HS - Huber Heights, OH) 
119.  Chris Fleeger   (Loyalsock HS - Williamsport, PA ) 
125.  Chris Rodrigues   (J.T. Walker School - Marietta, GA ) 
130.  Brad Metzler   (Westside HS - Omaha, NE) 
135.  Kasey Kohl   (Skutt Catholic HS - Omaha NE) 
140.  Jake Percival   (Steele HS - Amherst, OH ) 
145.  Jesse Jantzen   (Shoreham Wading River HS - Shoreham, NY ) 
152.  Ryan Bertin   (St. Edward HS - Lakewood, OH ) 
160.  Josh McLay   (Hastings HS - Hastings, MN ) 
171.  Wes Roberts   (Westmoore HS - Oklahoma City, OK ) 
189.  Quint Swanberg   (Horizon HS - Scottsdale, AZ ) 
215.  Michael Christian   (Lynnwood HS - Lynnwood, WA ) 
275.  Steven Mocco   (Blair Academy - Blairstown, NJ ) 

Second Team - 2000 Asics Tiger High-School All-Americans
103.  Luke Smith   (Chippewa Falls HS - Chippewa Falls, WI ) 
112.  Cory Cooperman   (Blair Academy - Blairstown, NJ ) 
119.  Justin Spates   (Mount Pleasant HS - Mount Pleasant, PA ) 
125.  Mike Simpson   (Brethren Christian HS - Cypress, CA ) 
130.  Ritchie Cordova   (Wasatch HS - Heber City, UT ) 
135.  Paul Collum   (Romeoville HS - Romeoville, IL ) 
140.  Mitch Morgan   (Wasatch HS - Heber City, UT ) 
145.  Mike Pirozzola   (Neshaminy HS - Langhorne, PA ) 
152.  Matt Nagel   (Frazee HS - Frazee, MN ) 
160.  Nate Baker   (Jackson County Central HS - Jackson, MN ) 
171.  Jake Rosholt   (Sandpoint HS - Sandpoint, ID ) 
189.  Travis Pascoe   (Gonzaga Prep HS - Spokane, WA ) 
215.  Mike Faust   (Gilman School - Baltimore, MD ) 
275.  Ben Connell   (Lugoff Elgin HS - Lugoff, Sc) 


During his career at Lugoff-Elgin, Ben Connell amassed a career record of 146-5, including 94 falls, 
en route to capturing four state titles for Lugoff-Elgin. Following the 2000 season, he was 
named South Carolina' "Mr. Wrestling" and finished second in the state's Athlete of the Decade vote.
Connell then finished first at the NHSCA national tournament and was named to Wrestling USA's Dream Team.

On the gridiron, Connell excelled as an All-State fullback and linebacker as well. Nationally, 
he was one of eight finalists for the Wendy's High School Heisman and was been featured in 
Sports Illustrated' "Faces in the Crowd."

Ben carried a 3.84 GPA and Connell received Academic All-America and All-State honors. 
He was an active member of Beta Club, Arrow of Light, Fellowship of Christian Athletes, Boy Scouts and SADD.
In addition, he was the president of his church's Young Men Club and volunteered with special needs and 
autistic children.

Thanks for making S.C. proud of your accomplishments Ben!



Article compiled by Mark Buford from information all over the place!