Wrestling USA Photos of South Carolina Wrestlers


Thirteen Wrestling USA Magazine cover shots that have put 23 South Carolina wrestlers in the national news.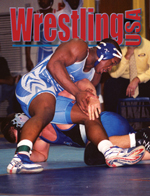 March 1, 2006 - State Champion J. J. Davis (Byrnes High School) works to turn
Corey Dangerfield (Airport High School) in J. J.ís 18-3 victory.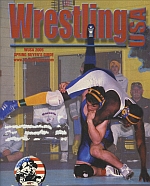 Spring 2005 Buyers Guide - Matt Silverberg of North Myrtle Beach vs. Timothy Taylor of Lake City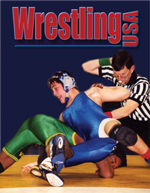 December 15, 2004 - Chris Humphries of Riverside rides legs on Gerald Turner of Summerville but gets
whistled for being potentially dangerous. Turner would win this North-South All-Star match 5-4 in an
epic battle of two multi-state champs.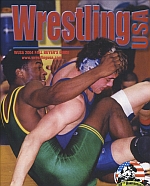 Fall 2004 Buyers Guide - Chris Humphries of Riverside vs. Gerald Turner of Summerville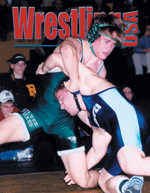 September 15, 2003 - State Champion at 145 lbs. Alex Piper of Hilton Head High School, shoots a single leg
on 2x state champion at 140, T.J. Selke, Dutch Fork. Selke won 3-2 and was honored with the South Carolina
Wrestler of the Year Award. Photo from the North-South All-Star match.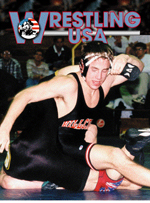 September 15, 1997 - 4-time state champion Robby Bell of Hillcrest, would win his third title here in
this 4A, 145 lb. bout. Bell pinned Sean McGovern of Irmo as he dominated the state tournament.
Bell is now the assistant wrestling coach at Hillcrest.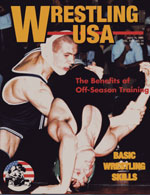 April 15, 1995 - Marcus Wright of Stall attempts to earn back points in the AAA State Finals at 119 lbs.
against Heath Brown of Greer. Brown won the state title with a 3-2 victory and finished with a 36-1 record.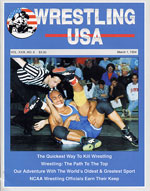 March 1, 1994 - David Boags of James Island gains back points against Robert Morton of Eastside
in the AAA State finals of the 135 lb. division. Davis won 9-6 enroute to his second state title.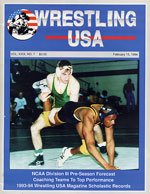 February 15, 1994 - At the North-South All-Star Classic, Brian Collier of Summerville secures the leg
of Union's Mike Clowney to prevent an escape. Brian defeated Mike to finish his senior year at 34-0.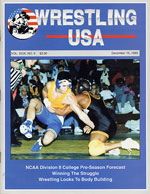 December 15, 1993 - Lincoln Glover of Lexington uses a switch against Tim Gist of Union to win the
152 lb. 4A state title 7-3. Lincoln finished the season 37-2 and successfully defended his 1992 state title.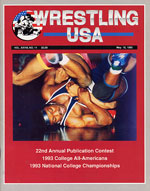 May 15, 1993 - 158 lb Finals. Bernard Durham (blue) of Carson-Newman College vs. Anthony Taylor,
Northern Montana College. Durham won 3-2. Bernard Durham wrestled at Rock Hill in high school.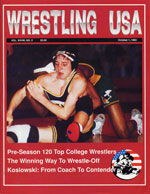 October 1, 1992 - Eric Williams of Spring Valley holds on to Derek Strobel of Irmo (front)
capping a perfect 35-0 season. Eric drfeated Derek 15-8 in the 119 lb South Carolina State Finals.
Strobel is now the head wrestling coach at Lexington.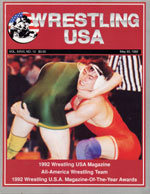 May 30, 1992 - The 152 lb. State Finals in South Carolina is captured by Stephan Chase of Mauldin
as he completes a takedown for a 12-10 win over J.R. Davison of Summerville.



Three Wrestling Publications you should consider subscribing to:

Wrestling USA Magazine
http://www.wrestlingusa.com
They are in their 40th year of publication
Named 2005 Wrestling Publication of the Year by the National Wrestling Media Association
Click for Free Trial Issue
Click To get Subscription information


Amateur Wrestling News
http://www.amateurwrestlingnews.com
They are in their 46th year of publication
Click To get Subscription information


W.I.N.
http://www.win-magazine.com
They are in their 11th year of publication
Click To get Subscription information